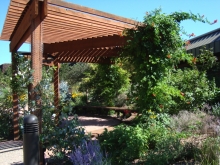 Demonstration Gardens in the Front Range that will inspire you to think about being water wise in your own landscape:
Southeastern Colorado Water Conservancy District Demonstration Xeriscape Garden
3171 United Avenue, Pueblo, CO  (719) 948-2400
Xeriscape Demonstration Garden at Cattail Crossing
(Enter at Desert Hawk Golf Course) At US Hwy 50 and McCulloch Blvd., turn south onto McCulloch Blvd. and go 0.8 mile to Joe Martinez Blvd. Turn right and continue to the Desert Hawk Golf Course parking lot. Cattail Crossing and the garden are on the right.
Mesa Xeriscape Demonstration Garden
Colorado Springs Utilities Conservation and Environmental Center
2855 Mesa Rd., Colorado Springs, CO  (719) 668-8232
Horticultural Arts Society (HAS) Demonstration Garden
In Monument Valley Park on the corner of Glen Avenue and Mesa Rd.
Colorado Springs, CO  (719) 596-4901
Carnegie Library Demonstration Garden
Between Penrose and Carnegie Public Libraries
20 N. Cascade Avenue, Colorado Springs, CO (719) 531-6333
Denver Botanic Gardens
909 York Street, Denver, CO  (720) 865-3501
Gardens at Kendrick Lake Park
East side of Kendrick Lake Park
9351 W. Jewell Avenue, Lakewood, CO  (303) 987-7800
Centennial Gardens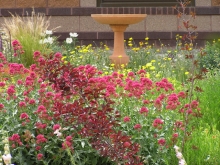 A formal garden using water wise plants
1101 Little Raven Street, Denver, CO
Betty Ford Alpine Gardens
Great for higher elevation water wise gardeners
183 Gore Creek Drive, Vail, CO  (970) 476-0103
Conservation Gardens
Northern Colorado Water Conservancy District
220 Water Avenue, Berthoud, CO  800-369-7246