The Southeastern Colorado Water Conservancy District has partnered with BidNet as part of the Rocky Mountain E-Purchasing System to post bid opportunities to this site.  As a vendor, you can register with the Rocky Mountain E-Purchasing System  and be sure that you see all available bids and opportunities. By selecting automatic bid notification, your company will receive emails once the Southeastern Colorado Water Conservancy District has a bid opportunity that matches your company's business. In addition, the site handles bid opportunities, RFPs, and RFQs for other member governmental agencies throughout Colorado.
The Southeastern Colorado Water Conservancy District looks forward to providing you with more bid information and simplifying the entire bid, proposal, and quote processes for everyone involved.  We appreciate your cooperation and welcome your participation.  If you need help registering, please call the Rocky Mountain E-Purchasing System support department toll free 1-800-835-4603 option #2.
Link to the SECWCD open solicitations:
Rocky Mountain E-Purchasing System
Link to Vendor Registration Screen:
Rocky Mountain E-Purchasing System
The Southeastern Colorado Water Conservancy District, through its Water Activity Enterprise, is seeking bids for design engineering and construction management of spur and delivery lines for the Arkansas Valley Conduit (AVC). A Request for Proposals is being issued for the delivery lines of Avondale and Boone in Pueblo County, which are to be constructed and connected to AVC by 2024. A Request for Qualifications is being sought for design engineering and construction management of spurs and delivery lines connecting the remaining 37 water systems in the AVC, which will be constructed as the AVC progresses through the Arkansas River corridor from Pueblo to Lamar. The District has joined the Rocky Mountain E- Purchasing System for bid and vendor management. Documents can be viewed by following the links below. Complete documents are available online at www.bidnetdirect.com/colorado/secwcd or through the District's web site at https://secwcd.org/content/arkansas-valley-conduit.
Description
The Arkansas Valley Conduit (AVC) is a 130-mile pipeline with spurs that would serve as many as 40 communities and 50,000 people east of Pueblo. It will deliver filtered water ready for treatment from Pueblo Reservoir. The AVC will supplement existing water supplies, which face state compliance issues because of salinity or radionuclide contamination. Most of the participants rely on groundwater, and need a reliable supply of fresh water.
History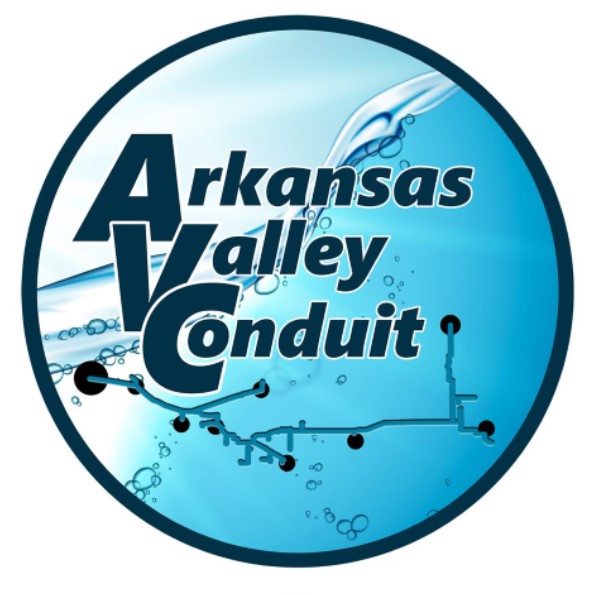 The cities of the Lower Arkansas Valley in Colorado have awaited the construction of the AVC for decades. The AVC was authorized by Congress as part of the Fryingpan-Arkansas Project in 1962. It never was built largely because of the inability of participants to repay construction costs. In 2009, Congress amended the original Fry-Ark legislation. The amendment featured a cost-sharing plan with 65 percent federal and 35 percent local funding. The locally funded portion will be repaid by the Southeastern Colorado Water Conservancy District (District) to the federal government over a period of 50 years.
AVC Progress Report
The Arkansas Valley is on pace to begin construction in the fall of 2022. Federal appropriations of about $40 million will fund the first portion of the pipeline to serve Boone and Avondale.
The Bureau of Reclamation is building the trunk line of the AVC, while the Southeastern District will build spurs and delivery lines to water providers who are AVC participants. The project's overall cost will be between $564 million and $610 million.
AVC will use Fryingpan-Arkansas water or water from participants' sources stored in Pueblo Reservoir.  Pueblo Water will treat the water and transmit it to a point at the east end of its system.
Participants will be connected to the AVC trunk line as it reaches their area. This will allow communities whose supplies are contaminated from radionuclides to receive clean drinking water years sooner than the completion of the entire AVC. Most of those communities are in Otero County, near the middle of the AVC route.    
It is estimated the project will reach Lamar in 2035.                                                                                                                                                         
Milestones  
October 3, 2020 - AVC Groundbreaking Ceremony. Interior Secretary David Bernhardt, Senator Michael Bennet and Senator Cory Gardner were among dignitaries who gathered at Pueblo Dam for the groundbreaking of the Arkansas Valley Conduit. Several state lawmakers, Department of Natural Resources Director Dan Gibbs and Colorado Water Conservation Board Executive Director Becky Mitchell attended. Southeastern Board members and AVC participants came as well. 
2020 - The AVC received $28 million in federal funding to finish design and begin construction of the long-awaited pipeline. The Colorado General Assembly approved authorization of a Colorado Water Conservation Board financial package of up to $100 million for AVC, and Governor Jared Polis signed the bill into law.                                        
2014 – Reclamation issued a Record of Decision for the AVC, which established a route (Comanche North) and scope of work for the project. 
2013 – The Bureau of Reclamation (Reclamation) completed a Final Environmental Impact Statement for the AVC.
2013—Regional Water Conservation Plan in Support of Arkansas Valley Conduit and Related Projects completed by the District.    
2009 – P.L. 111-11 passed, allowing miscellaneous revenues (excess-capacity contract payments) from the Fryingpan-Arkansas Project to be applied to AVC construction and repayment. These payments will be available beginning in 2022 and initially total about $3.5 million annually, increasing in future years.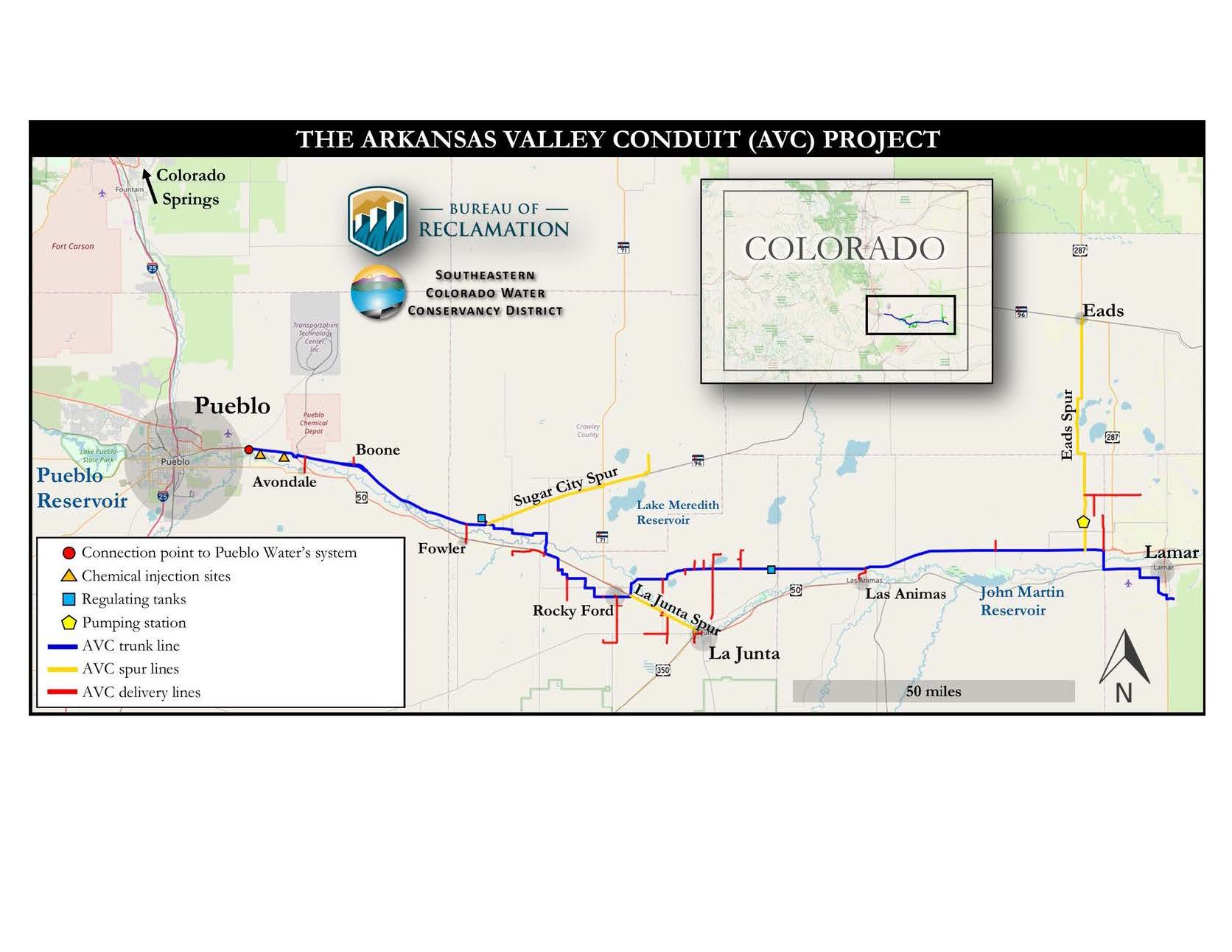 Pueblo County
Town of Boone
Avondale Water & Sanitation
Crowley County

96 Pipeline Company
Crowley County Water Association
Town of Crowley
Town of Olney Springs
Town of Ordway
Town of Sugar City
Bent County

Hasty Water Company
City of Las Animas
McClave Water Association
Prowers County

City of Lamar
May Valley Water Association
Town of Wiley
Kiowa County 
Otero County 
Beehive Water Association

Bents Fort Water Company

Town of Cheraw

East End Water Association

Eureka Water Company

Fayette Water Association

Town of Fowler

Hilltop Water Company

Holbrook Center Soft Water

Homestead Improvement Association

City of La Junta

Town of Manzanola

Newdale-Grand Valley North Holbrook Water

Patterson Valley

Riverside Water Company

City of Rocky Ford

South Side Water Association

South Swink Water Company

Town of Swink

Valley Water Company

Vroman Water Company

West Grand Valley Water

West Holbrook Water
Click Here for the Final Environmental Impact Statement
For more information:  https://www.usbr.gov/gp/ecao/avc/