Description
The Arkansas Valley Conduit (AVC) is a 130-mile pipeline with spurs that would serve as many as 40 communities and 50,000 people east of Pueblo. It will deliver filtered water ready for treatment from Pueblo Reservoir. The AVC will supplement existing water supplies, which face state compliance issues because of salinity or radionuclide contamination. Most of the participants rely on groundwater, and are in need of a reliable supply of fresh water. 
History
The cities of the Lower Arkansas Valley in Colorado have awaited the construction of the AVC for decades. The AVC was authorized by Congress as part of the Fryingpan-Arkansas Project in 1962. It never was built largely because of the inability of participants to repay construction costs. In 2009, Congress amended the original Fry-Ark legislation. The amendment featured a cost-sharing plan with 65 percent federal and 35 percent local funding. The locally funded portion will be repaid by the Southeastern Colorado Water Conservancy District (District) to the federal government over a period of 50 years.   
Milestones:   
October 3, 2020 - AVC Groundbreaking Ceremony                                                         
 Interior Secretary David Bernhardt, Senator Michael Bennet and Senator Cory Gardner were among dignitaries who gathered at Pueblo Dam for the groundbreaking of the Arkansas Valley Conduit. Several state lawmakers, Department of Natural Resources Director Dan Gibbs and Colorado Water Conservation Board Executive Director Becky Mitchell attended. Southeastern Board members and AVC participants came as well.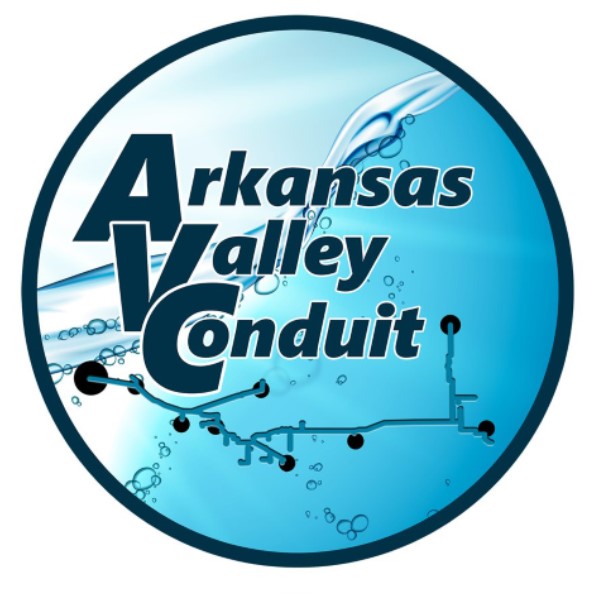 "For nearly 60 years, Colorado's leaders of both political parties have been working to move the Arkansas Valley Conduit forward. This project will provide reliable clean water for 50,000 people living in 40 rural communities across southern Colorado."  - Secretary of Interior David Bernhardt
 "We have an important decision to make in this country, and that's if we're going to have a rural America or not. And you can't have a rural America without having rural hospitals, you can't have a rural America without schools, you can't have rural America if you don't have clean water or agriculture and that's what this project is all about. And it makes possible that rural America can thrive and not just survive."  - Senator Michael Bennet
 "The communities of the Lower Arkansas Valley deserve clean drinking water, which the Arkansas Valley Conduit will supply for generations to come. It's exciting to see dirt moving on this project for the first time since Congress authorized it and President Kennedy promised completion nearly six decades ago." - Senator Cory Gardner                                      
 "The Arkansas Valley Conduit is a lifeline for folks in the Lower Arkansas Valley. It is extremely satisfying to see the level of support we have witnessed from both political parties in the state and federal government. I cannot tell you how happy I am to finally see this become a reality. I'd like to thank all the members of our Congressional delegation and the Colorado General Assembly for their continued support of the AVC." - Bill Long, SECWCD President 
  "As chairman of the Arkansas Valley Conduit committee for the Southeastern District, I would like to stress the importance of this project to the participants. So many communities are overwhelmed by the regulatory requirements of running a water system, and also of disposal of by-products from treating that water. The AVC has long been seen as the most cost-effective, sustainable way to meet the drinking water needs of the Lower Arkansas Valley." - Kevin Karney, AVC Committee Chair 
 "We have had a wonderful partnership with the federal government in breathing new life back into a project that some said would never happen. In the past few months, we have begun to roll up our sleeves and begin the real work of completing the Arkansas Valley Conduit. The Bureau of Reclamation has shown a new level of energy toward getting this project done and the District is more than ready to do its part." - Jim Broderick, Executive Director 
June 29, 2020 -The Southeastern Colorado Water Conservancy District applauded state approval of a $100 million financing package for the Arkansas Valley Conduit that will allow construction to begin in the near future.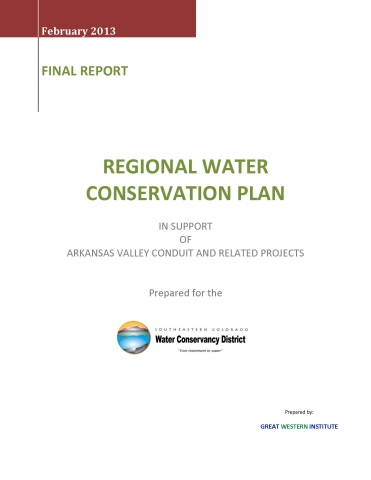 2020 - Arkansas Valley Conduit gets additional Federal Funding -The Arkansas Valley Conduit is in line to get an additional $8.05 million in fiscal year 2021, if Congress approves President Trump's proposed budget, which was released Monday, February 10, 2020.
2020 - Arkansas Valley Conduit gains federal funding - The Arkansas Valley Conduit received $28 million in federal funding to finish design and begin construction of the long-awaited pipeline.
2019 – CWCB approves $100 Million for AVC 
2014 – Reclamation issued a Record of Decision for the AVC, which established a route (Comanche North) and scope of work for the project. 
2013 – The Bureau of Reclamation (Reclamation) completed a Final Environmental Impact Statement for the AVC.
2013—Regional Water Conservation Plan in Support of Arkansas Valley Conduit and Related Projects completed by the District.
2009 – P.L. 111-11 passed, allowing miscellaneous revenues (excess-capacity contract payments) from the Fryingpan-Arkansas Project to be applied to AVC construction and repayment. These payments will be available beginning in 2022 and initially total about $3 million annually, increasing in future years as contract payments rise.                             
AVC Progress Report
CDM Smith, under a contract with the U.S. Bureau of Reclamation, completed a study of Regionalization for theAVC with the goal of providing interim solutions for AVC participants until the AVC can be completed. The Final Report of Phase 1 provided alternatives with the goal of addressing Colorado Department of Public Health and Environment drinking water enforcement orders, while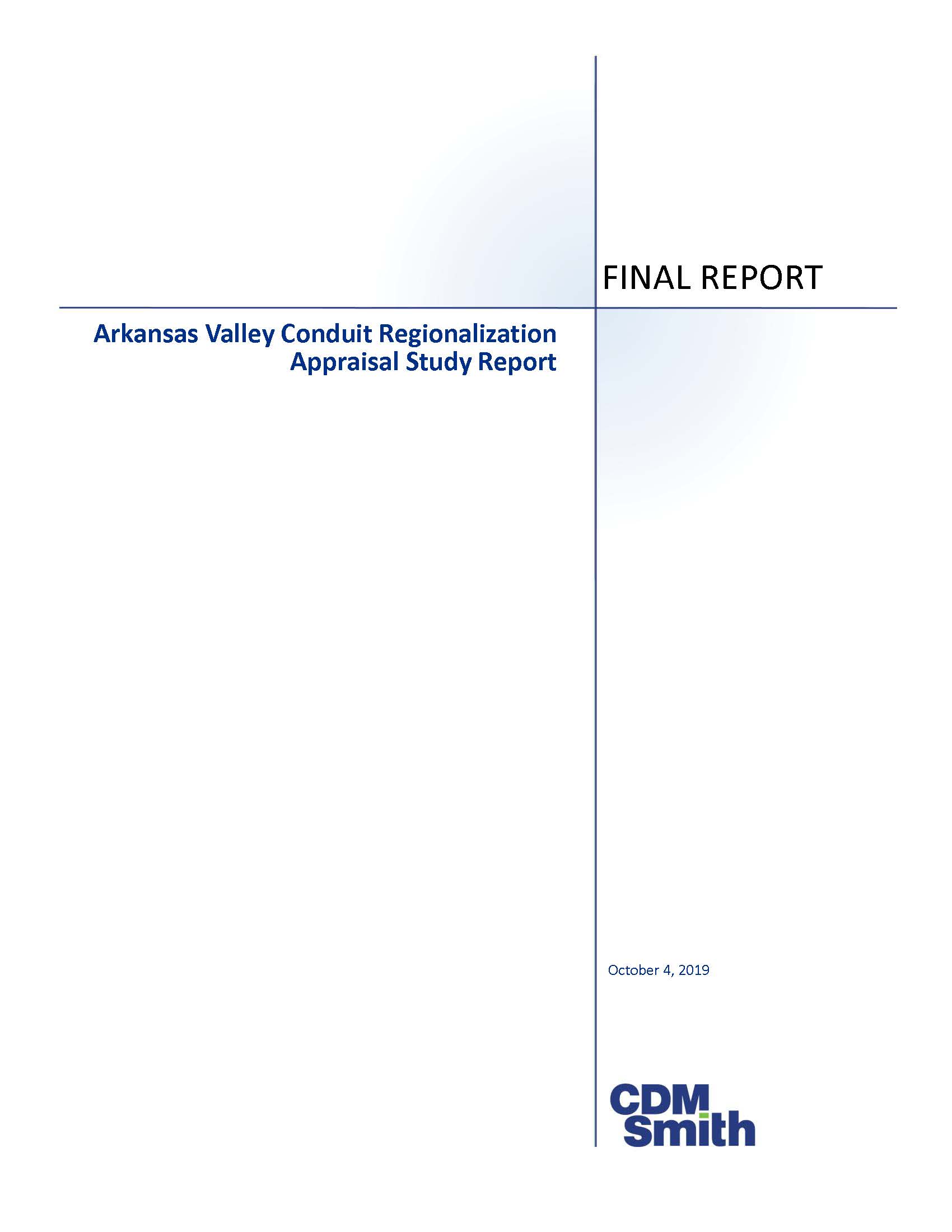 following the alignment of the AVC east of Pueblo as closely as possible.
Meanwhile, Reclamation has endorsed the "New Concept," proposal made by the District in 2017, which eliminates the need to build a pipeline around Pueblo by using the capacity in Pueblo Water's system to deliver AVC water at a point east of the Pueblo Memorial Airport. In 2019, Reclamation initiated a Value Planning workshop to study efficiencies along the entire route, with the goal of addressing federal concerns, and improving chances for federal appropriations. 
Pueblo County
Crowley County

96 Pipeline Company
Crowley County Water Association
Town of Crowley
Town of Olney Springs
Town of Ordway
Town of Sugar City
Bent County

Hasty Water Company
City of Las Animas
McClave Water Association
Prowers County

City of Lamar
May Valley Water Association
Town of Wiley
Kiowa County 
Otero County 
Beehive Water Association

Bents Fort Water Company

Town of Cheraw

East End Water Association

Eureka Water Company

Fayette Water Association

Town of Fowler

Hancock Incorporated (now part of Rocky Ford)

Hilltop Water Company

Holbrook Center Soft Water

Homestead Improvement Association

City of La Junta

Town of Manzanola

Newdale-Grand Valley North Holbrook Water

Patterson Valley

Riverside Water Company

City of Rocky Ford

South Side Water Association

South Swink Water Company

Town of Swink

Valley Water Company

Vroman Water Company

West Grand Valley Water

West Holbrook Water
Click Here for the Final Enviormental Impact Statement
For more information: United States Bureau of Reclamation